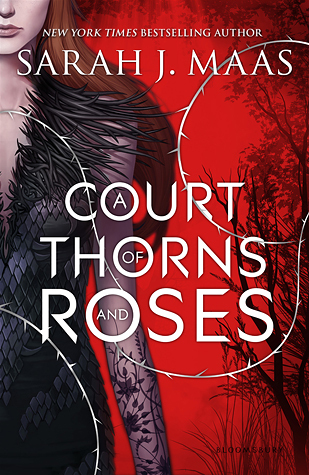 Title: A Court of Thorns and Roses (A Court of Thorns and Roses #1)
Author: Sarah J. Maas
Publisher: Bloomsbury Children's (May 5, 2015)
Format: Hardcover
Pages: 416
Synopsis from Goodreads:
When nineteen-year-old huntress Feyre kills a wolf in the woods, a beast-like creature arrives to demand retribution for it. Dragged to a treacherous magical land she only knows about from legends, Feyre discovers that her captor is not an animal, but Tamlin—one of the lethal, immortal faeries who once ruled their world.

As she dwells on his estate, her feelings for Tamlin transform from icy hostility into a fiery passion that burns through every lie and warning she's been told about the beautiful, dangerous world of the Fae. But an ancient, wicked shadow grows over the faerie lands, and Feyre must find a way to stop it . . . or doom Tamlin—and his world—forever.
Can I just say how excited I was when I got hold of this book? It was released way back in May. I've been hunting book stores nearby just to have it in my hands. It was only just this July that I saw it sitting in its glory on a book store's shelf. I had to immediately grab it and squealed!!!
I dunno how Sarah J. Maas does it but ever since I read her books, I fell in love with the Faes. Sure I was fascinated about them but I never read a good enough story that involves faeries. A Court of Thorns and Roses is set in a world where faeries and humans live under a treaty which keeps the peace in their land. When Feyre kills a wolf for the sake of her family's survival, she was then captured by Tamlin ( a total hot fae!!) as her punishment for killing his friend (whom Feyre thought was just a regular wolf).
In my opinion, ACOTAR has this darker feel to it. Feyre's family has been struggling to survive on a daily basis. The main character, Feyre, has to work hard just to provide for her family. She's got this angst-y attitude which is totally reasonable because who wouldn't be after being through a lot of tough times. Somehow, I loved Celaena of ToG more than her. Just because Celaena is so funny, sassy, and at the same time very bad-ass. Feyre's is more serious though, so it took me longer to love her as a character. Actually, it was harder to fall in love with the ACOTAR characters than the ToG ones.
Now, on with the male leads..
Tamlin is someone who can be so scary but also lovable. I was all set on liking him until the real reason of him capturing Feyre was revealed. Don't get me wrong, I also love him. He's also humorous and sweet.  Rhysand , on the other hand, is the total opposite of Tamlin's gentleness. He's so dark and seductive (lol at my choice of words but he is!!) He's got his intentions with Feyre but I still root for him to have a happy ending. Ughhh!! It is so hard with Sarah's male characters. They're so hot and easy to fall in love with.
The villain of the book, Amarantha was written in a way that will make you loathe her with all your being. However, once you found out the root of her evilness, you'll get where she's coming from.
Sarah's writing style was definitely amazing. I mean the way she did all that world building made me almost want to live in Prythian specifically in the Spring Court. Oh and the magic system is wonderful. I loved it that I got lost in this beautiful world of Faes.