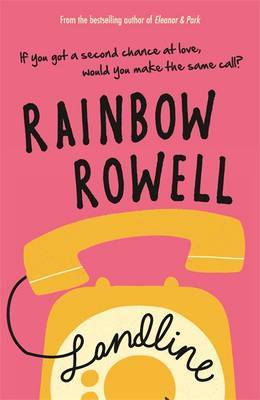 Title: Landline
Author: Rainbow Rowell
Publisher:  Orion (January 1, 2014)
Format: Trade Paperback
Pages: 320
Synopsis from Goodreads:
Georgie McCool knows her marriage is in trouble. That it's been in trouble for a long time. She still loves her husband, Neal, and Neal still loves her, deeply — but that almost seems besides the point now.

Maybe that was always besides the point.

Two days before they're supposed to visit Neal's family in Omaha for Christmas, Georgie tells Neal that she can't go. She's a TV writer, and something's come up on her show; she has to stay in Los Angeles. She knows that Neal will be upset with her — Neal is always a little upset with Georgie — but she doesn't expect to him to pack up the kids and go home without her.

When her husband and the kids leave for the airport, Georgie wonders if she's finally done it. If she's ruined everything.

That night, Georgie discovers a way to communicate with Neal in the past. It's not time travel, not exactly, but she feels like she's been given an opportunity to fix her marriage before it starts . . .

Is that what she's supposed to do?

Or would Georgie and Neal be better off if their marriage never happened?
Oh gods! It's been such a long time since I last posted a review. Imagine. It's been a month! I had such a crazy time trying to balance work, rest, and reading. I'm glad I stole a free time for myself to rant out feels for this Rainbow Rowell book and post some more book love.
Anyway, I just want too say that I was so ecstatic when I got a copy of Landline in this edition. It's way much prettier than the US edition. I can't find a hardcover UK edition, so I had to settle with this instead. But…it's still beautiful! I knew that this story is more of written for  the "adult" audience. So, getting into this book was kind of hard. The main character, Georgie, being married, having kids, and working on her career, was difficult to relate to.
Her marriage with Neal was problematic.
At the beginning, their family was supposed to fly to Omaha for the Christmas season. Georgie is a TV producer, and she had to stay behind for her work, making Neal mad at her. As Georgie was left behind, she tries to find out how she and Neal had come to this point in their lives, distant and unable to communicate with each other. One night, she finds this magical telephone that connects her to Neal in the past.
My first thought going into this book is how am I supposed to love this book if I cannot even relate to its characters? How am I going to finish it if the mood of the book is gloomy when all I'm ever craving for is a typical cutesy, heartwarming Rainbow Rowell book? I know. I know. There is Eleanor and Park. But then..there was the cutesy feel to it..because Park is totally adorable and Eleanor, oh how I love her.
How wrong I was with that. It turned out I just need a little patience to get to the good part. Once I got there, I was flying through the book, savoring all the precious goodies written by Rainbow. There is still bunch of cutesy and heartwarming moments. It's like eating a chocolate which slowly melts inside your tongue making you feel pure bliss. That's what I feel everytime I read a Rainbow Rowell book. She makes me want to cry and laugh and cry and laugh again. She's my queen when it comes to contemporary books. I love everything she writes. Her characters are still relatable and loveable because they really are. I just want to take Georgie and Neal from the pages and hug them because they make me warm and fuzzy.
I will not say more about what happened. Just go and read the book!!! Go!!!!