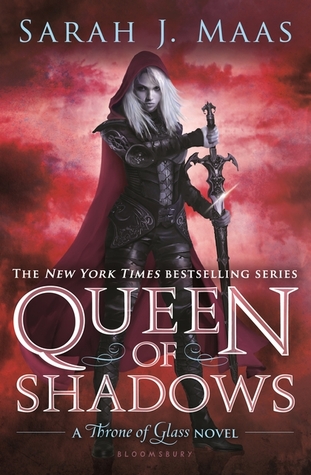 Title: Queen of Shadows (Throne of Glass #4)
Author: Sarah J. Maas
Publisher: Bloomsbury USA Children's (September 1, 2015)
Format: Hardcover
Pages: 648
Synopsis from Goodreds:
Everyone Celaena Sardothien loves has been taken from her. But she's at last returned to the empire—for vengeance, to rescue her once-glorious kingdom, and to confront the shadows of her past . . .

She will fight for her cousin, a warrior prepared to die just to see her again. She will fight for her friend, a young man trapped in an unspeakable prison. And she will fight for her people, enslaved to a brutal king and awaiting their lost queen's triumphant return.

Celaena's epic journey has captured the hearts and imaginations of millions across the globe. This fourth volume will hold readers rapt as Celaena's story builds to a passionate, agonizing crescendo that might just shatter her world.
To start off, I really don't know how I can express my adoration for this wonderful creation by Sarah J. Maas. She's really a kick-ass author and reading QoS is like the rain to a long-time drought or the oasis in the middle of the desert. I just cannot contain my love and other feels for this series in my heart.
My general thoughts about Queen of Shadows?
It's heart-pounding and fantastic!!! I loved almost every part of it. My expectations as a fan of the ToG series was met. I mean not all of it but it definitely gave me satisfaction as to all of the things that I have been anticipating to happen in this installment. Sarah's writing style is purely gold. All those plot twists made me curse her and love her. Lol, just kidding but I really love Sarah J. Maas with all my heart. Will the ToG fans love it? Yes, absolutely! It's worth the wait. The 648-page journey with Aelin is one hell of a ride. If you haven't read the ToG series, seriously, what are you doing with your life?
Character-wise, I guess most of them changed A LOT. I know it was expected given what they went through from the previous books. Aelin came back to Adarlan as a more matured person. I mean she picks her fights. You will know what I mean when you get to read the parts concerning her and Arobynn..and her and Dorian. She still is the sassy Celaena but she's less arrogant and more patient? Maybe it's just me who thought of her that way. I'll comment about the "SHIPS" later on.
Chaol, oh dear Chaol. I didn't know that you had a place in my heart. Let's be honest, he's been a prick to Celaena in the end of Heir of Fire. He wasn't able to accept Celaena's true identity. I think what redeemed Chaol was his undying loyalty to Dorian. That's what made me pray that no harm is going to happen to him.
Rowan, well, what can I say..he's been softer? That's only when it comes to Aelin. Ughh..but overall he's still the hot Fae warrior that we met in HoF.  I appreciated the fact that he's civilized with Aedion when they met and at the later parts of the book.
Remember Lyssandra, that courtesan from The Assasin's Blade? We get to meet her again. It will be spoilery though if I say how she's changed.
Oh and Dorian..I don't even want to go to what happened to him. That was what tortured me the most while I was reading this book.
We also get to encounter new characters. The fact that I loved every single new character in this book is a good thing. Whether they were the good or the bad guys, I enjoyed how well-crafted they were.
.
.
.
.
Now, let me go to the main plots of QoS and my feels about them: [SPOILERS AHEAD]
.
.
.
*Rescuing Aedion
I was freaking out during this whole scene. Oh gods, I was so worried with everyone in the gang. I mean who the heck would stand a chance in tricking everyone in the castle and rescuing Aedion on Dorian's birthday!!! It nearly killed me!! And that encounter between Aelin and the evil Dorian, I was crying the whole time because I was thinking that he's going to be dead. Aelin was like: "Come on Dorian, tell me that you're still there!!! One more minute!!" I'M LIKE ARGHHHHHH!!! MY HEART!!! THANK ALL THE GODS FOR NESRYN!!!!
*Revenge on Arobynn
Who's been waiting for Aelin's revenge on Arobynn? Me! Me! Me! Honestly, I was a bit disappointed here. I had high hopes that Celaena would be the one to do it to Arobynn. Remember how vicious she can be during a revenge? Arobynn would have deserved that. (I know I'm so bad.) Though I guess, it's better that Lyssandra was the one who did it. I mean one can only take so much guilt in her conscience.
*Wth is happening in Morath?
All the Morath scenes are totally crazy and creepy. Everything's been so horrible in that place. Thank goodness that it's not that boring. I was actually excited to know all the evil things that Perrington and the king have been up to. Imagine that Valg demons are inside human bodies . Then, Valg princes are mating with witches. It's terrifying. I have a good feeling about Manon and her group. I hope she's going to form an alliance with Aelin soon.
*Baby Dorian's freedom
MY baby Dorian has been through so much and I just want to take him out from the book and take care of him. Unfortunately, he's got to fight the demon inside of him. When all sh*t goes down in the Rifthold, I was having a hard time proceeding. All the friggin time that he was chasing Aelin, I was praying that neither of them would hurt each other. ALL THE FEELS WHEN AELIN WAS TELLING DORIAN TO FIGHT the valg. Oh Gods!! Then, THAT MOMENT WHEN THEY HELD HANDS AND FOUGHT THE KING WAS PURE BLISS!!!
SHIPS:
*Chaolena: (*Plays: We Are Never Ever Getting Back Together*) I'm sorry to say this Chaolena fans but it seems that all hopes for Chaol has been extinguished in QoS. I mean first of all, Chaol still can't accept who Aelin is. Then, Nesyrn comes along in Chaol's life. They start having this friends w/ benefits kind of relationship that grows into something more. Oh and Chaol and Nesryn's scene at the temple before their attack in the palace? Yeah..so it looks like it's Nesryn and Chaol will be together.
*Rowaelin: This ship looks like it's on its steady sailing right now. In HoF, Aelin and Rowan agress of only having platonic relationship. Few moments apart… BAM! It seems that they miss and LOVE each other. WTH? Rowan's edge over the other guys, he and Aelin are caranam. I'm not happy about them being together in QoS but I gotta say that Rowaelin scenes are STEAMY!!!
*Doraelin/Celorian: In this ship, I sail and forever will stay. You guys might not see them ending up together right now but I know that they will. Mark my words. It's going to happen. Lol. 😉 ❤
*Lyssandra & Aedion (Damn it! It's hard to come up w/ a ship name for them!): The moment that these two met in QoS, I know that they are made for each other.
I feel like I could say more but I'm afraid this review has been too long. I'll have to have another post about my theories for the next book. Maybe I'll get to it soon. All I can say is that until now, I have a hangover from this book. I cannot stop thinking about it. It will be such a long long year to wait for the release of the next installment in the series.