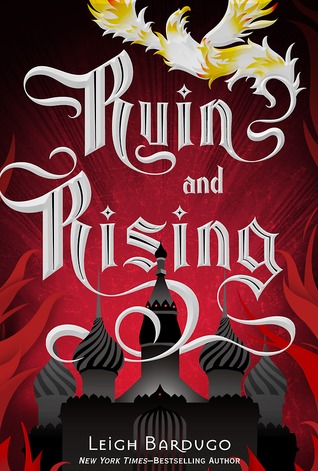 Title: Ruin and Rising (The Grisha #3)
Author: Leigh Bardugo
Publisher:  Henry Holt and Co. (June 7, 2014)
Format: Hardcover
Pages: 422
Synopsis from Goodreads:
The Darkling rules Ravka from his shadow throne.

Now the nation's fate rests with a broken Sun Summoner, a disgraced tracker, and the shattered remnants of a once-great magical army.

Deep in an ancient network of tunnels and caverns, a weakened Alina must submit to the dubious protection of the Apparat and the zealots who worship her as a Saint. Yet her plans lie elsewhere, with the hunt for the elusive firebird and the hope that an outlaw prince still survives.

Alina will have to forge new alliances and put aside old rivalries as she and Mal race to find the last of Morozova's amplifiers. But as she begins to unravel the Darkling's secrets, she reveals a past that will forever alter her understanding of the bond they share and the power she wields. The firebird is the one thing that stands between Ravka and destruction—and claiming it could cost Alina the very future she's fighting for.
Finally, the last book in the series!!!! The frustration of not having a copy of this book ready in my hands when I finished Siege and Storm was a real struggle. My feeling when I started it was somehow bittersweet. It made me feel as if I'm going to be saying goodbye to the characters who I have grown to love.
Back to the story, it started out pretty slow with Alina still recovering from her confrontation with The Darkling. The Apparat was annoying and creepy as always. Oh that moment of victory when Alina, Mav, and company beat the Apparat in ruling "Alina's faithful followers" was pure bliss. Badass moments in books make my day.
Saints. This book played with every emotion that I was capable of having. I want everyone to be safe and sound including the Darkling but except the Apparat ( I really don't like him). Ugh and what happened to Baghra and Nikolai, it just really broke my heart. I told you, those characters make me love them.
The whole time I was reading Ruin and Rising, I kept on hoping, hoping that The Darkling would be redeemed. I was praying that he would change but there are things we cannot have.
This book is a masterpiece!. I highly recommend it. Miss Bardugo, you have an exceptional writing style. Kudos! I am so pumped up for Six of Crows!