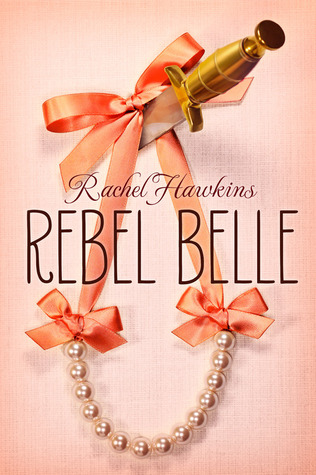 Title: Rebel Belle (Rebel Belle #1)
Author: Rachel Hawkins
Publisher:  Putnam Juvenile (April 8. 2014)
Format: Hardcover
Pages: 345
Synopsis from Goodreads:
Harper Price, peerless Southern belle, was born ready for a Homecoming tiara. But after a strange run-in at the dance imbues her with incredible abilities, Harper's destiny takes a turn for the seriously weird. She becomes a Paladin, one of an ancient line of guardians with agility, super strength and lethal fighting instincts.

Just when life can't get any more disastrously crazy, Harper finds out who she's charged to protect: David Stark, school reporter, subject of a mysterious prophecy and possibly Harper's least favorite person. But things get complicated when Harper starts falling for him—and discovers that David's own fate could very well be to destroy Earth.

With snappy banter, cotillion dresses, non-stop action and a touch of magic, this new young adult series from bestseller Rachel Hawkins is going to make y'all beg for more.
Hi Book Nerds! It's been long since the last time I posted in my blog. I've been really busy and was trying to keep up with my reading schedule. Today, I come back with a review for Rebel Belle by Rachel Hawkins.
I've been seriously eyeing this gorgeous book ever since it was released last year. I mean, look at it. It's so pretty that it begs to be placed on my shelf. So, when I finally got my copy. I read it right away.
The story revolves our main character, Harper Price, aka Miss Perfect. She's the President of the student government, one of the people who's at the top of the class, and future homecoming queen. At the night of her most awaited homecoming dance, something really strange happens to Harper. When she went to the comfort room to put some lip gloss (lol), their school janitor, wounded and bleeding to death, barges in and kisses her. After that strange kiss, he dies. Then, there comes her history teacher who tries to kill her. Harper thought that she was having a nightmare but what's worse is that she isn't. Later on, she finds herself involved with David Stark, her greatest nemesis in school.
With this hilarious and weird start to the story, Rachel Hawkins pretty much got my full attention. Harper seems like the kind of character who's not fit at all to be  the hero in the book. With her kind of personality, you would think that she should rather be the damsel in distress. She's so girly and self-centered. Initially, you will have an impression that all she cared about were pretty dresses, elegant shoes, and her popularity. All her life, she strove to be their school's best role model. She maintains her reputation as the smart, responsible, and gorgeous one. I just find it funny how in this story, she's sort of a warrior who is destined to fight enemies to protect a certain someone.
I enjoyed most parts of the book. I love how she can be princess-y but also a warrior. That's just so cool. After she overcame her issues with regards to her destiny, she became bad-ass. It also helped that she's a fighter and very determined.
The other characters in the book are all very interesting. They were fun to read. David Stark, her greatest enemy in school, develops friendship with her. My fave parts were when they were having their banters. I also really like that even though they hated each other, they reached the point when they had each other's backs. Aunt Saylor was someone who I really hated since the beginning. I was also kind of hesitant to trust her. Later on, I realized that I was kind of wrong. Oh..and can I just tell how much I love Harper's Aunts? They're absolutely adorable!
I loved the plot twists!! Gosh, they were so entertaining and amusing. Ever since then, I didn't think that I have laughed a lot while reading a paranormal book. The concept about the Paladins was something new. I have never encountered it before. So, I think that the whole book was really refreshing.
There was just some parts when I thought that the characters were annoying and silly. Although I guess, my love for them overrode my occasional irritation. Overall, I think I would really love to dive in more to Harper's world. There will be a next book in the series, it's called Miss Mayhem. It's going to be released on April this year. I'm so stoked!!