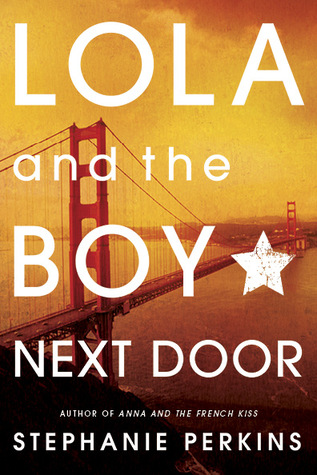 Title: Lola and the Boy Next Door (Anna and the French Kiss #2)
Author: Stephanie Perkins
Publisher:  Speak (July 9, 2013)
Format: Paperback
Pages: 338
Synopsis from Goodreads:
Lola Nolan is a budding costume designer, and for her, the more outrageous, sparkly, and fun the outfit, the better. And everything is pretty perfect in her life (right down to her hot rocker boyfriend) until the Bell twins, Calliope and Cricket, return to the negihborhood. When Cricket, a gifted inventor, steps out from his twin sister's shadow and back into Lola's life, she must finally reconcile a lifetime of feelings for the boy next door.

This is the second book in The Anna and The French Kiss series by Stephanie Perkins. I'm extremely in love with this book. It has the right amount of all the feels. Cricket Bell is so cute (and I am fangirling here like a crazy schoolgirl). Anyhoo, the story is about Lola Nolan, a girl who's into taking up a notch when it comes to her daily outfits. She almost has the dream life that every girl can have, including having the perfect hot rocker boyfriend. However, one day, the only one guy from the past, the one she's terrified to face again moves back to the house next to theirs. Lola's long buried feelings come back to her and it seems like she will not be able to resist it.
Reading Lola and The Boy Next Door is same as breathing. It's probably the easiest and lightest read that I've had this year. I did not have the slightest problem in reading it. I found myself breeze-reading through it. It made me feel good with all the feelings that it evoked inside of me (lol, jk).
I find all the characters adorable and unique. I love love love Lola. I almost wish I was her. I like that she's creative and funny although she can also be shy and doubtful to herself. She also got cool parents (not her birth parents). Most of the time I laughed out loud while reading the book, it was mostly because of them. It was great how they support Lola but can also be overprotective. Oh and Cricket…my Cricket. He's such a nerd but I love him for it. I like the fact that he makes stuff for Lola. I love that he's a bit awkward but still cute.
There are pretty funny scenes in the book and those made me go on and on. The last part all about them helping Calliope. That was really awesome. My favorite part was the dance at the end part of the book. That was all sweet and feels-inducing.
I also appreciate the parts where Anna and St. Clair were in the story. Thank God for putting them there Stephanie. This book is so perfect.
I'm recommending this book to all YA contemporary lovers out there. I'm sure this book will make it to your favorites list. My rating for this book is: