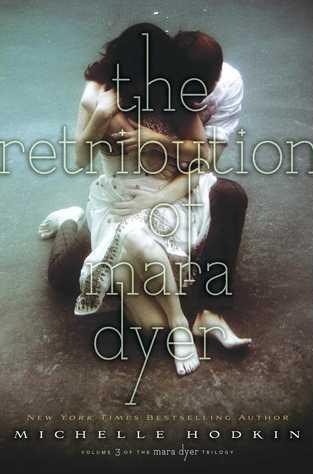 Title:  The Retribution of Mara Dyer (Mara Dyer #3)
Author: Michelle Hodkin
Publisher:  Simon & Schuster Books for Young Readers (November 4, 2014)
Format:Hardcover
Pages: 470
Synopsis from Goodreads:
Mara Dyer wants to believe there's more to the lies she's been told.
There is.

She doesn't stop to think about where her quest for the truth might lead.
She should.

She never had to imagine how far she would go for vengeance.
She will now.

Loyalties are betrayed, guilt and innocence tangle, and fate and chance collide in this shocking conclusion to Mara Dyer's story.
Retribution has arrived.
I'm so glad I already got to read this freaking book. It's one of my most anticipated book release of 2014. I've been waiting for it like a year already. Imagine my excitement when I got the news that copies of the book were already available in a local bookstore here in my country. I would like to thank Fully Booked for the copy. It's not only a copy but a signed copy!!!! *cue  fangirl squeals here* Anyway, let's get  it on with the book.
*This might contain some spoilers*
The Retribution of Mara Dyer is the 3rd installment and the last book in the Mara Dyer series. It continues off from what happened since the chaos that occurred in the Horizons psychiatric facility. In the 3rd book, she wakes up in a room full of mirrors with nothing much to remember since that day. She soon realizes that she has been told lies and has been used as a part of research. That's it folks. That's all I can say.
My reaction to this book:
It's definitely 200% awesome. Gosh, I believe that I have been put through lot and it pretty much felt like an emotional roller coaster while I was reading it. I was all nervous especially at the beginning of it. I felt my heart race as I read that Mara is still with Dr. Kells and she's being used as a part of research. I was also really freaked out when she heard her "inner voice" talking back to her. I'm like where is this book going? Is Mara really crazy or schizophrenic? Or does she really have superpowers..like really creepy superpowers? It was all too much to take really. That being combined with the fact that I think Dr. Kells is crazy herself.
Then, as I went over the book, Ms. Hodkin did a great job of incorporating those parts featuring Mara's grandmother. There..there were the answers that I have been craving for since I read the first two books, both of which have a super frustrating cliffhanger. In TRoMD, finally I understood the connections. However, it was not really clear to me what they are. I understand that they are bunch of people who have genetic anomalies but what are they really? I'd like to think that maybe it's a curse. I dunno but I love the explanation, the story about what is up with them.
I loved Jamie more in this book. Gosh, he's so hilarious and he's a true friend indeed. Stella, I liked her because she's the most sane among the three of them (Mara, Jamie, and Stella). I enjoyed reading their quest to find Noah. Also, thank goodness for Daniel. He's like the savior for me. He's the perf brother. I loved that he was there when Mara needed him the most.
I was halfway through the book and I was searching for Noah. I'm so worried about him. Then, I got to that part when he and Mara met again. But the moment hurt me..they are being put into so much distress and I didn't like that. I was shocked at the unfolding of the events. All the time, I was thinking..wow this is Romeo and Juliet-ish scene. I was a mess. I was crying.
Finally, I got to the part that I was praying for. Michelle Hodkin, again thank you for giving us that ending. I was really scared for my beloved characters. I don't want to weep like I did when I finished Allegiant. Like I kept saying, this book is perfect. It was the ending that I was hoping for. My expectations were met as a reader. Yay!!! As sad as I am in finishing this series, I am content that one of my fave fictional characters got their deserved HEA.
My rating: