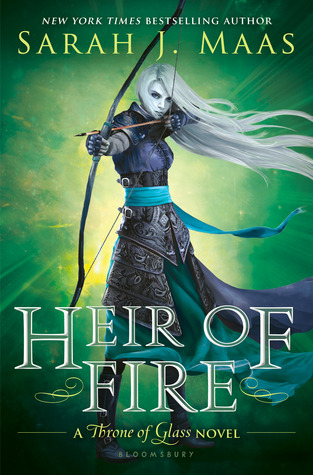 Title:  Heir of Fire (Throne of Glass #3)
Author: Sarah J. Maas
Publisher: Bloomsbury USA Childrens (September 2, 2014)
Format:Hardcover
Pages: 565
Synopsis from Goodreads:
Lost and broken, Celaena Sardothien's only thought is to avenge the savage death of her dearest friend: as the King of Adarlan's Assassin, she is bound to serve this tyrant, but he will pay for what he did. Any hope Celaena has of destroying the king lies in answers to be found in Wendlyn. Sacrificing his future, Chaol, the Captain of the King's Guard, has sent Celaena there to protect her, but her darkest demons lay in that same place. If she can overcome them, she will be Adarlan's biggest threat – and his own toughest enemy.

While Celaena learns of her true destiny, and the eyes of Erilea are on Wendlyn, a brutal and beastly force is preparing to take to the skies. Will Celaena find the strength not only to win her own battles, but to fight a war that could pit her loyalties to her own people against those she has grown to love?
Oh my gods. I swear I've been through a lot while reading this book. Imagine all the feels that I had. Most ToG fans call this book their favorite but  I still think that the first book in the series was the best. However, HoF blew me away with all the awesomeness!How can I review this book without spoilers? I dunno really. So if you haven't started the series yet..go and pick up Throne of Glass and Crown of Midnight. Then, when you finish them, come back here. Okay? Okay.
——SPOILERS AHEAD——-
HoF picks up from the point where Celaena is sent to Wendlyn to accomplish her mission to assassinate the royalties there who pose a threat to the power of the King of Adarlan. She's got this dark vibe at the beginning of the novel. After everything that happened to her, Nehemia dying and Chaol betraying her, of course, she's got the right to be angsty.
But out of nowhere, a mysterious guy named Rowan tells her to come with him to meet her Fae Queen Aunt, Maeve. She comes with him to learn about the Wyrdkeys. When she meets her aunt, she asks Celaena to show off her gifts and then that's when she will decide if she will give what Celaena wants.
Right from the moment Celaena and Rowan met, I thought that they are going to be so great together. They are both interesting characters with dark pasts. Their banters are really fun to read. I really enjoyed their lessons together and how Rowan did not spare Celaena from the hardships of training just because she's an heir to the crown of Terrasen. I love how their relationship grew. From strangers who loathe each other, they became true friends. I even ship them!! Lol. It's either Dorian or Rowan for me. If Celaena chooses from one of them, my fangirl heart will be alright.
Oh..and Celaena's transformation in this book is so overwhelming. At the start of the series, we see the Celaena who's got rage, angst, and hatred in her heart. She despises the fact that she failed herself, her friends, her family, and her kingdom. It took her a long long while before she has been able to let go and accept and just move on. During the fight with Narrok and his army, I was flailing because I was so afraid that Celaena will lose. I mean the Valg Princes are soooo scary. But yeah, I have my faith on her. There are at least three more books in the series so I am sure she would survive the Valg Princes' attack. I was celebrating and got teary eyed when she met the little Aelin. I love how she was woken up from her hopelessness and she begin fighting again for the right cause. She now has hope and I very much fangirled when she dealt with her aunt and forced her to free Rowan from their blood oath.
Then, there's the part of the novel which tells what's been happening in Rifthold. The focusis on Chaol, Dorian, and Aedion. First, I'll talk about what happened to Dorian. So, after he discovered his magic. He has been searching for ways to keep it hidden while still practicing it. When he hurt himself from practicing, he goes in the place of the healers where he meets Sorscha. They got pretty close to each other. Dorian fell for Sorscha because "she accepted him for what he is even if his father killed Sorscha's family". Well…alright, tbh I'm not a fan of their ship. S0rry not sorry. I don't like Sorscha at all. And even though Dorian loves her. I rejoiced when she got killed. Bwahahaha!! That means, that my ship Doraena (Dorian and Celaena) still has hope. Anyway, Chaol, in the beginning, has been having a hard time accepting the truth about Celaena. He also deals with his father and his request to come back to Anielle. I'm fine with him going back to his land..But then, Aedion, the great general who apparently is Celaena/Aelin's cousin, visits Rifthold. His reputation in the Adarlan Empire is that his the "King's Whore". Later on, we find out that he's truly an enemy to the king and he seeks to give justice to his cousin. I love his existence in the novel. Oh gosh…
There are the parts towards the end of the book which tortured me. Creys. I CANNOT. First, Aedion gets dragged into the prison of the castle, serving as a bait for Celaena to come back to the kingdom and face the evil king. Oh and I couldn't accept what happened to Dorian..The ever charming and adorable prince was forced to wear the collar from the king that has a power to control him. OMG. WHYYYYYYYY????
Last part in my review/discussion is Manon and the coven of witches. I think that side of the story is interesting but I just can't stand those chapters. They're like a break from the exciting chapters of Celaena, Rowan, Chaol, Dorian, and Aedion. Everytime I get into those chapters, I just want to hurry up so that I can be back to my beloved characters' part of the story.
That's all. LOL 🙂  Well that was long. Still, I'm at awe for the epic fantasy world created by Miss Sarah J. Maas. The agony of waiting for the release of the next book in the series is killing me. I want it now.
I swear it's been really hard for me to find another book to hold my interest since I started reading this series. I'm in a bad case of book hangover. My rating for this book is obviously: