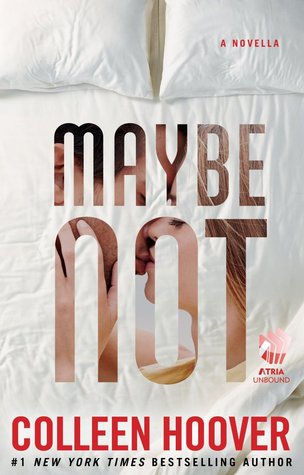 Title:Maybe Not (Maybe #1.5)
Author: Colleen Hoover
Publisher: Atria Books (November 24, 2014)
Format: Kindle
Pages:129
Synopsis from Goodreads:
When Warren has the opportunity to live with a female roommate, he instantly agrees. It could be an exciting change.

Or maybe not.

Especially when that roommate is the cold and seemingly calculating Bridgette. Tensions run high and tempers flare as the two can hardly stand to be in the same room together. But Warren has a theory about Bridgette: anyone who can hate with that much passion should also have the capability to love with that much passion. And he wants to be the one to test this theory.

Will Bridgette find it in herself to warm her heart to Warren and finally learn to love?

Maybe.

Maybe not.
When I saw CoHo's post on Facebook that she will release a novella about Warren and Bridgette, I was so stoked..Like really really really stoked. Maybe Someday is one of my favorite reads this year and I know that this will be another great story. It focuses on how Warren and Bridgette's relationship developed. Take note, their relationship is not like the usual that we read on other novels. They're the funniest, weirdest, and cutest fictional couple out there.
I love how CoHo told the story in Warren's POV. Throughout the whole story, I felt like I could cry from all the hilarity of Warren's thoughts. When he first laid his eyes on Bridgette, he was so sure that he was going to get her. I love his cockiness and naughtiness (What? Hahaha!). Then, there's Bridgette. Gosh, when I read about her in Maybe Someday in the beginning, she's like the most annoying character in the story. She's so bitchy and cold. In Maybe Not, we get to know why she acts like that. Oh and the fact that only Warren gets her, makes me drown in feels. I'm fangirling too much right now. 😉
My favorite part of the novella is when they visited Warren's sister. Bridgette dealing with kids is EPIC. I cannot help but laugh and at the same time feel happy for her. Warren admiring her and proposing for a date with her is so much fun to read. It's like they are both weirded out by the awkwardness of their "relationship". I love every part of this story!!!