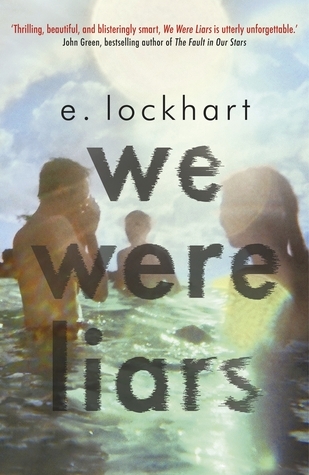 Title: We Were Liars
Author: E. Lockhart
Publisher: Hot Keys Books (May 15, 2014)
Format: Paperback
Pages: 228
Synopsis from Goodreads:
We are the Liars.

We are beautiful, privileged and live a life of carefree luxury.

We are cracked and broken.

A story of love and romance.

A tale of tragedy.

Which are lies?

Which is truth?
I was actually hesitant to read this novel due to the huge hype that's been going around about this book. There have been lots of good reviews and bad ones too. Finally, when there had been a huge book store sale near my place, so I finally decided to buy the book and see what the hype is all about.
We Were Liars takes place in a private island owned by the Sinclairs, a well-known rich family. Every summer, the Sinclair cousins, Cadence, Johny, Mirren, together with Gat  see each other and have fun like kids living the dream life.  One day, Cadence wakes up with these terrible migraines and she realizes that she has forgotten everything that had occurred after an accident in the island two years ago. When she gets back, everything changes and she finds out what happened.
Well, that was all that I could tell you at this moment. Other reviewers were definitely right when they said that you better read this book without knowing and expecting anything about it. I am glad that I got to read it without accidentally coming across spoilers and stuff..but the thing is that I got HIGH expectations for this novel.
I was absolutely shocked at the plot twist. Honestly, I didn't know how to feel. I was confused and my mind was in a mess. I was trying to catch up..and I was all WHAT???!!!! I guess it took some time for me to absorb what has been revealed. I was waiting and waiting for the climax of the story to unfold and there it appeared at the point in the story wherein I did not expect it to appear. There goes all my expectations.
On the other hand, E. Lockhart's way of writing is so beautiful in a way that she'll make you feel fascinated. Her use of metaphor to convey her character's emotion was effective to me. It's powerful I tell you. Plus, she also incorporated some short fairy tales in the novel. Wow. Just wow. She also made feel as if I was reading a very long book when in truth she was able to condense the story in just 200 plus pages.
When I finished WWL, I had lots and lots of questions and I would love to find out about them when E. Lockhart comes here in the Philippines next year. LOL. In the meantime, I would have to deal with my book hangover by watching theories about WWL in booktube.