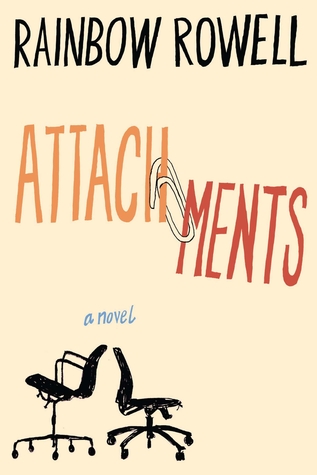 Title: Attachments
Author: Rainbow Rowell
Publisher: Dutton Adult (April 14, 2011)
Format: Hardcover
Pages: 323
Synopsis from Goodreads:
"Hi, I'm the guy who reads your e-mail, and also, I love you . . . "

Beth Fremont and Jennifer Scribner-Snyder know that somebody is monitoring their work e-mail. (Everybody in the newsroom knows. It's company policy.) But they can't quite bring themselves to take it seriously. They go on sending each other endless and endlessly hilarious e-mails, discussing every aspect of their personal lives.

Meanwhile, Lincoln O'Neill can't believe this is his job now- reading other people's e-mail. When he applied to be "internet security officer," he pictured himself building firewalls and crushing hackers- not writing up a report every time a sports reporter forwards a dirty joke.

When Lincoln comes across Beth's and Jennifer's messages, he knows he should turn them in. But he can't help being entertained-and captivated-by their stories.

By the time Lincoln realizes he's falling for Beth, it's way too late to introduce himself.

What would he say . . .
Attachments is a contemporary novel which is set in the 90's in a publishing company where Lincoln is hired as an internet security officer. He thought that his job would entail preventing hackers from invading the company's database but instead, he was given the boring job of going through the other employees' e-mails. He encounters the funny conversations between two friends, namely, Beth and Jennifer. As he reads their e-mails, he finds himself getting more and more attached to them..and perhaps getting attracted to Beth. The problem is how will he introduce himself without sounding like a creeper? Will Beth like him back?
The fact that Rainbow Rowell wrote this novel made me instantly pick it up and put it in my TBR list. I thoroughly enjoyed her other novels..and I also fell in love with this one. Rainbow Rowell has her own way in making her readers feel attached to her characters. Her characters are very likable and relatable.
Lincoln is an introvert and a geek. He can't seem to stand other people except his mother, sister, and pack of friends. He doesn't go out that much and his work is during night time when everyone is hanging out at bars and dating. Meanwhile, Beth works as a movie reviewer. She's hilarious and gorgeous. She's stuck with her boyfriend who treats her badly. She thinks she still loves him but she's just hanging on to the idea of being in love with him.
Now, these are two characters whom you could totally relate right? That's what I felt as well when I was reading the story. It was so easy to just be drowned in the novel and feel as if you were there with the characters. Plus, there were moments when I thought I could just die from all the cuteness that there is between Lincoln and Beth.  There were also lots of moments in the book wherein I just want to make them face each other and fall for one another. I was put through lots of things just to see them together you know? Yeah..I'm not getting spoiler-y here.
At the end, I was just frustrated because it ended so fast. I wanted it to go on and on and on and on..Anyway, I still felt very much happy when I finished it. It's one of those best "FEEL GOOD" books that I would recommend to anyone. Read it, people! However, Fangirl is still my favorite Rainbow Rowell novel. 😀