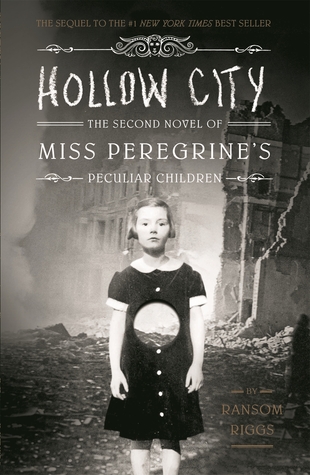 Title: Hollow City (Miss Peregrine's Peculiar Children #2)
Author: Ransom Riggs
Publisher: Quirk Books (January 17, 2014)
Format: Paperback
Pages: 396
Synopsis from Goodreads:
Miss Peregrine's Home For Peculiar Children was the surprise best seller of 2011—an unprecedented mix of YA fantasy and vintage photography that enthralled readers and critics alike.

This second novel begins in 1940, immediately after the first book ended. Having escaped Miss Peregrine's island by the skin of their teeth, Jacob and his new friends must journey to London, the peculiar capital of the world. Along the way, they encounter new allies, a menagerie of peculiar animals, and other unexpected surprises.
Awesome is the perfect word to describe this book. From the beginning to the end of it, I was addicted and thrilled. I can't even with all my feels for it.
Hollow City picks up from the point that the peculiar children went on to their journey to help their head mistress, Miss Peregrine to turn back to her former self and to escape from their crumbling loop. Along their adventure, they passed through more loops and met more peculiars. They also had to face the dangers caused by the wights and hollowgasts. Will the peculiars survive and return to the simple life they had before, at their loop?
I think Hollow City is more action-packed and more exciting compared to the first book in the series. Reading it felt more like an adventure to me. I love how Mr. Riggs wrote it. It was easy for me to picture what was happening in the story. it's really like a movie playing in my head. The setting/s of the story was/were also very interesting. The concept of loops is practically time travelling. So, I could only imagine a lot of people will enjoy this novel.
I also can't help but adore Miss Peregrine's peculiar children. They all have certain personalities that will make you care for them. What I also loved in this novel is the presence of gypsies and talking animals. It's really cool. Damn. I still can't believe I am already finished with the book. I'm really on a book hangover right now. I need to find another epic book to cure it.
After I read this one, I can finally say that I am officially a fan of Ransom Riggs. He's a brilliant writer. Plus, how can I forget? I had feels overload when he said at the beginning of the book that he dedicates it for Tahereh.  They're like my author OTP of all time. Gahhh..I hope to see them again at a book signing event.
I highly recommend this book to everyone who loves to go on journeys involving extraordinary characters and settings. The book will make you long to belong in such a magical story.