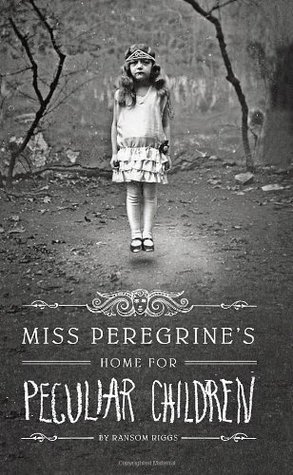 Title: Miss Peregrine's Home for Peculiar Children (Miss Peregrine's Peculiar Children #1)
Author: Ransom Riggs
Publisher: Quirk Books (January 4, 2013)
Format: Paperback
Pages: 352
Synopsis from Goodreads:
A mysterious island. An abandoned orphanage. A strange collection of very curious photographs.

It all waits to be discovered in Miss Peregrine's Home for Peculiar Children, an unforgettable novel that mixes fiction and photography in a thrilling reading experience. As our story opens, a horrific family tragedy sets sixteen-year-old Jacob journeying to a remote island off the coast of Wales, where he discovers the crumbling ruins of Miss Peregrine's Home for Peculiar Children. As Jacob explores its abandoned bedrooms and hallways, it becomes clear that the children were more than just peculiar. They may have been dangerous. They may have been quarantined on a deserted island for good reason. And somehow—impossible though it seems—they may still be alive.

A spine-tingling fantasy illustrated with haunting vintage photography, Miss Peregrine's Home for Peculiar Children will delight adults, teens, and anyone who relishes an adventure in the shadows.
One look at the cover of this book, and you'll think that it's creepy. Like I said before I do judge a book by its cover. I thought this book is going to be a lot scary and with bunch of ghosts. I better stop judging books by its cover then. Lol. If it weren't for the people who told me that Miss peregrine's Home for Peculiar Children is not scary at all, I wouldn't have picked it up and read it. Why? Because I have low tolerance for reading/watching scary stuff.
Back to the book, it's about Jacob Portman who grew up to the fantastic stories told to him by his grandpa, Abraham. His grandfather's stories are all about this mysterious place where children with peculiar talents and features live with a woman/bird , named Miss Peregrine who is their headmistress and guardian. Grandpa Abe also says that he has fought monstrous creatures over the years. Jacob believed them as a child but now that he's sixteen, he thought that his grandfather are just making them all up.
When Jacob found his grandpa dying at the woods outside his house, his grandfather's last words were for him to find the loop and save himself from the monsters that attacked him. Jacob, traumatized by what happened, sets off to discover the mysteries that surround his grandpa's past.
This is actually a remarkable read. With pictures included, I'm sure you'll be sucked into Jacob and the peculiars' world. When I started reading it, I think the pacing was a bit slow but I understand though that the story is just building. I think Jacob is a character that is enjoyable to have a journey with. He's just an average teenage boy who's got an ordinary life. Then, all of a sudden, he gets to be in this magical loop where there are peculiar children who could do peculiar things.
I love reading about the peculiar children. All of which are very funny to read about. My favorites are Millard, Brownyn, and Olive. Enoch is just ugh..so irritating. Oh and then, there's Emma..a girl who had a past with Jacob's grandfather. I just find it really awkward when they began interested with each other. Though I guess, they were pretty good together.
Halfway through the book, like Jacob, I found myself fascinated with the loop and its inhabitants. I can't stop myself from wanting to read the book as fast as I could, to find out what happens next. The journey I had while reading this book is thrilling. But the thing is, I find the book short. The ending felt like it was written hurriedly. I understand that it has a sequel though. I just felt that the things happened so fast (in the latter chapters) so that the book can be wrapped up. Another problem that I had with Jacob is how easily he turned his back from his parents. I am just not really okay with that fact. I just wish that somehow when one enters a loop, the time from present will be paused but it's not that way in the book.
Overall, I think that Miss Peregrine's for Peculiar Children is riveting. The photos are all very interesting and will make you more curious to the story. Also,  it felt as though I was young again, enjoying this extraordinary adventure that these children are having. I recommend this book to readers who are into fantasy and adventure.