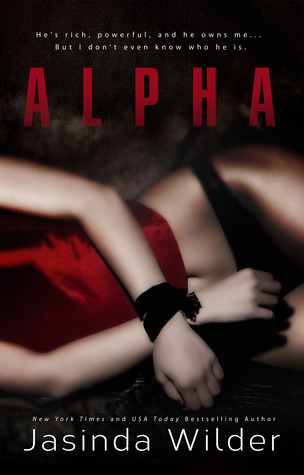 Title: Alpha (Alpha # 1)
Author: Jasinda Wilder
Published: April 29, 2014
Format: E-book
Pages: 450
Synopsis from Goodreads:
The first time it happened, it seemed like an impossible miracle. Bills were piling up, adding up to more money than I could ever make. Mom's hospital bills. My baby brother's tuition. My tuition. Rent. Electricity. All of it on my shoulders. And I had just lost my job. There was no hope, no money in my account, no work to be found. And then, just when I thought all hope was lost, I found an envelope in the mail. No return address. My name on the front, my address. Inside was a check, made out to me, in the amount of ten thousand dollars. Enough to pay the bills and leave me some left over to live on until I found a job. Enough to let me focus on classes. There was no name on the check, just "VRI Inc.," and a post office box address for somewhere in the city. No hint of identity or reason for the check or anything. No mention of repayment, interest, nothing…except a single word, on the notes line: "You." Just those three letters.

If you receive a mysterious check, for enough money to erase all your worries, would you cash it?

I did.

The next month, I received another check, again from VRI Incorporated. It too contained a single word: "belong."

A third check, the next month. This time, two words. Four letters. "To me."

The checks kept coming. The notes stopped. Ten thousand dollars, every month. A girl gets used to that, real quick. It let me pay the bills without going into debt. Let me keep my baby brother in school and Mom's hospice care paid for. How do you turn down what seems like free money, when you're desperate? You don't. I didn't.

And then, after a year, there was a knock on my door. A sleek black limousine sat on the curb in front of my house. A driver stood in front of me, and he spoke six words: "It's time to pay your debt."

Would you have gotten in?

I did.

It turns out $120,000 doesn't come free.
This is a good and fun novel for me to read for my hiatus on fantasy books. Before I read it, I thought this is going to be another BDSM-ish type of story. It's nice to know that it really isn't. It's about Kyrie St. Claire who had so much financial problems. She's got to pay for her brother's education, her mother's psychiatric care, bills,  rent, etc. At the beginning, she also loses her job.  Then, there's these checks sent to her by a mystery guy. She had no choice but to use the money sent for her to settle her problems. One day, there's a guy who asks her to come with him so she can pay her debts.
I enjoyed the story. It was fast-paced and covered what I really needed to know. I also liked how the relationship between Kyrie and Roth developed. It's not the usual love-at-first sight type of thing for both of them (just attraction) and neither it is a story with the characters keeping it purely sexual. It's a relief to know that they didn't really fought their feelings for each other. Plus, I must mention that there is so much chemistry between them. Reading this will probably get you hot. Lol.
Anyway, Kyrie is pretty much likable as a main character. She's not overly meek and she knows how to fight. On the other hand, Roth is very mysterious..and hot of course. My only problem with this man is the way he speaks. Seriously most of the scenes in the novel would have been better if he didn't have to be so cheesy and so chivalrous (to the point that it gets funny, not romantic or hot..).
Also, there is this plot twist which I am not really that surprised to discover. I feel bad for Kyrie about this one. What happened to her really sucked. I think I really didn't like when I got to this plot twist. I just don't like how Roth can help and take advantage of Kyrie at the same time while knowing that he ****** her father (sorry I had to do this to avoid spoilers 😉 ). Despite this, the author had made the right decision to make Kyrie think about her situation and sort things out.
All in all, Alpha by Jasinda Wilder is an enjoyable book. It wasn't just hat great or awesome. It's suitable for those who loves new adult genre.