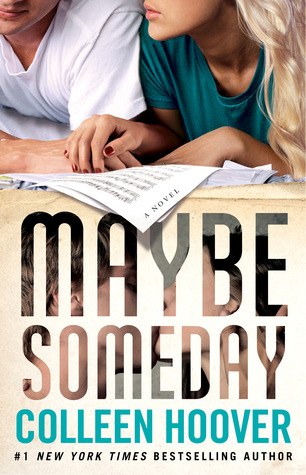 Title:Maybe Someday
Author: Colleen Hoover
Publisher: Atria Books (March 18, 2014)
Format: Paperback
Pages:367
Synopsis from Goodreads:
At twenty-two years old, aspiring musician Sydney Blake has a great life: She's in college, working a steady job, in love with her wonderful boyfriend, Hunter, and rooming with her good friend, Tori. But everything changes when she discovers Hunter cheating on her with Tori—and she is left trying to decide what to do next.

Sydney becomes captivated by her mysterious neighbor, Ridge Lawson. She can't take her eyes off him or stop listening to the daily guitar playing he does out on his balcony. She can feel the harmony and vibrations in his music. And there's something about Sydney that Ridge can't ignore, either: He seems to have finally found his muse. When their inevitable encounter happens, they soon find themselves needing each other in more ways than one…
Yay! Another Colleen Hoover book that I've read and I must say that it was freaking awesome!
The story is about Sydney who thought almost everything in her life is in order. She's got her boyfriend, Hunter, and her bestfriend/roommate, Tori. Aside from her parents' disapproval of her pursuing a music career, she was happy and contented. Then, there's a guy across her apartment whom she can't stop thinking about ever since she saw and heard him playing his guitar. She might be beginning to have a crush on him. One day, things get ugly when she discovers that Hunter is cheating on her with her bestfriend. Brokenhearted, she leaves the apartment she shared with her bestfriend and figures things out after. That's when Ridge (aka The Hot Neighbor she can't stop thinking about) comes into her life, offering his help. From there, friendship begins to bloom between them and maybe turns to even more..
From the title of the novel, it pretty much caught my attention.  Maybe Someday? It sounds like the characters are going to breakup and have their "Maybe Someday" in the future  or maybe the title refers to the characters falling in love with the right person at the wrong time…then Maybe Someday, they're love for each other will be right. I know, I know..I'm guessing the plot with the title. Who doesn't want love stories with this kind of plot? If you thought the same like me, then, you'll probably be interested in discovering whether you figured the story out just by title or if there is more to it. Sure, there's more to it if you see that the story is written by Colleen Hoover.
I can't even express how much I love this novel. I enjoyed it so much. It's not like Hopeless (a novel, also by Colleen Hoover). It's a lighter romance novel which surely gave me lots of feels. There's drama but not the heavy kind of drama. I loved the flow of the story. It was not boring plus the happenings got me turning page after page.
As I read it, I realized there was more depth to the characters. They had such interesting back stories about their past which made them who they were. They were also really enjoyable to read. Most of them got good sense of humor. I can't help but laugh with most of their dialogues. I love how honest and frank the characters were, especially Sydney and Ridge. Then, there's Warren, Bridgette, and Maggie. They are pretty much the kind of characters that you want to hate but can't really hate.
There are also lots of surprising plot twists in this novel. I was trying to guess what happens next after those plot twists but no, they were always not what I was expecting. Also, there were some parts in the novel which made me annoyed. For example, there were times in the story in which some of the characters need to act like a jerk. I was so frustrated for the things they did but it was good to know later in the story why they had to be like that.
I drowned in my feels especially at the last chapters of the book. I cried and laughed and swooned. I adored Sydney for waiting for things to settle..to wait for the right time. Ridge is also good at waiting though most of the times, it took much of his effort. I will not mention here anymore what's the deal with these two towards the end of the book. Just figure it out. 😉
All in all, Maybe Someday is one of the novels that gave me a good but bittersweet feeling when I finished it. I wanted more but I think the story just ended right. It's a romance story that made me feel the emotions of the characters. The story and characters were easy to relate to. Plus, there's a novel soundtrack. How cool is that? Yeah, I also swooned with Griffin Peterson's voice. I listened to the soundtrack as I went along with the book. The songs  fit the story. It took me days to get over the book and the songs.
I recommend this book to everyone out there who loves romance novels with light drama and lots of plot twists and music. I swear you will really love this book!