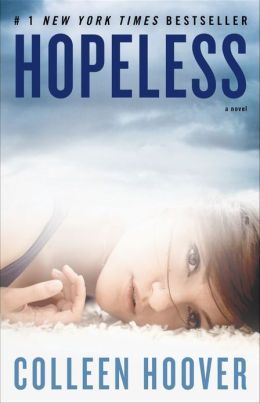 Title: Hopeless (Hopeless #1)
Author: Colleen Hoover
Publisher: Atria Books (December 17, 2012)
Format: Paperback
Pages:406
Synopsis from Goodreads:
Sometimes discovering the truth can leave you more hopeless than believing the lies…

That's what seventeen-year-old Sky realizes after she meets Dean Holder. A guy with a reputation that rivals her own and an uncanny ability to invoke feelings in her she's never had before. He terrifies her and captivates her all in the span of just one encounter, and something about the way he makes her feel sparks buried memories from a past that she wishes could just stay buried.

Sky struggles to keep him at a distance knowing he's nothing but trouble, but Holder insists on learning everything about her. After finally caving to his unwavering pursuit, Sky soon finds that Holder isn't at all who he's been claiming to be. When the secrets he's been keeping are finally revealed, every single facet of Sky's life will change forever.
This is the first Colleen Hoover book that I've ever read. I've been hearing lots of great things about her.  So, here I am..and I just finished Hopeless.
The main character is a girl named Sky. She gets to school for her senior year to experience what it's like after years of being home-schooled. Her adoptive mother restricts her from using any kind of technology like TV, phone, and internet. It's as if her whole life, she has been kept away from other people. She has her best friend Six though. Both of them change guys they make out with as often as they change their ice cream flavor preferences.
After her first day of school, she encounters this hot and intense guy named Dean Holder. There is something about him that terrifies her but there is also something about him that draws her in. As Sky falls harder for Holder, she gets to discover his secrets that may wreck her.
Whew! That was long but don't worry, it's spoiler-free. Here are my thoughts on the book:
Hopeless is a pretty intense book. Yes! It is intense! There's so much drama and emotions going on here. I really tried my best to keep up with them and fortunately, I was able to survive the obstacles and issues that Sky and Holder had. The events were unpredictable at some points in the book. I feel myself feeling distraught and hopeful for these two.
Luckily, there were some light parts in the novel. There were like my favorite parts of the story. The parts with Six and Breckin are one of my faves. They are absolutely the best friends that anyone would love to have for himself/herself. Also, there were moments that Sky and Holder are just so swoon-worthy.
I love how the story didn't just focus on love and sex. It also covered friendship and family. I appreciate the fact that the main characters, Sky and Holder try to be strong for each other..that they were able to get through everything..together.
After reading the book, I really felt emotionally spent. It was such a beautiful novel though. There was this part where Sky did this psychotherapy stuff with herself..and my tears fell. All in all, it is a captivating novel but I think it was really hard going through Sky and Holder's journey. I find it inspiring at the end.
I recommend this book to everyone who's craving for an intense and drama-filled story. It's one of those books that will make you feel lots of emotions. So, when you read it, make sure you have a box of tissues beside you. 😉