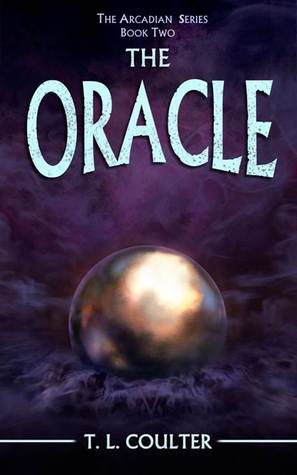 Title: The Oracle (The Arcadian Series #2)
Author: T.L. Coulter
Published: June 2, 2014
Format: Kindle Edition
Synopsis from Goodreads:
When Rek finds Kailee and Audric's bodies missing from their coffins, he must figure out where they are before it is too late. Rek along with Astrid, and their mortal friend Gabe, must cross realms in order to find the last remaining Oracle. She is the only one who can help lead them to Kailee and Audric. Will Rek find Kailee and Audric before it is too late? Will the secrets about the "key" prophecy finally be revealed? Find out in this exciting second installment of The Arcadian Series.
This novel is probably one of the most enjoyable stories that I have ever read. First, it's not overly dramatic like the other fantasy books. Second, I find the way of writing simple yet detailed..and that fact makes me more "into" the story. I find myself turning page after page because I simply get more interested and invested with the characters. Also, it was easy for me to imagine what the world of Arcadia looks like. I love the idea of different realms. It's the kind of adventure that every book lover should have.
If you haven't read The Key (first book in the series) yet, better read it now. I swear it's going to be worth it. Here's a link, so go and check what the series is all about.
On to the next book…
The Oracle continues on Rek's journey in searching for the love of his life and also his brother who were abducted by his traitor uncle. To help him find them, Rek seeks the help of The Oracle and some friends from the other realms. This is what mainly what happens in this book. Moreover, the main characters get to discover the truth about the prophecy that kept Rek and Kailee apart. A lot of new characters were introduced in this book. My oh my, I love all of them except for the enemies of course. Lol.
I think this book is more action-packed than the first book. I loved reading all the fight scenes. They just made me hold my breath and feel nervous for my favorite characters. The involvement of vampires, werewolves, ghosts/angels, and demons in the story made it much more fun for me to read. Maybe I was expecting for casualties in the wars but apparently the big war isn't happening in this installment yet. That part was explained towards the end of the book.
Another thing that's abundant in this book is "love teams"!!! I like it though. I'm a sucker for happy endings so I am the kind of reader who is frustrated to have the fictional characters I love finding his/her match. That's real good. Thank goodness. I also like it when drama ensues. For example, Astrid and Gabe. They're both stubborn but I think they're so cute. Oh and I shouldn't miss the Audric, Rek, and Kailee situation…
In my opinion, I got the answers that I was looking for from the happenings in the first book. I am so satisfied that I was able to make sense of why some of the events in the series occurred.  I am also curious to know how the visit in the dreams thingy work. I mean I get that their loved ones who passed away can come to their dreams but I don't fully understand why some of the characters aren't able to do such things.
The book ended with a bang though. Yes! Another cliffie..and we all have to wait to find out what happens next. I was all stressed out as I was finishing it. I'm like.."No!!! I need more!!!" but yeah that's the life of a book addict.
My rating for this book: