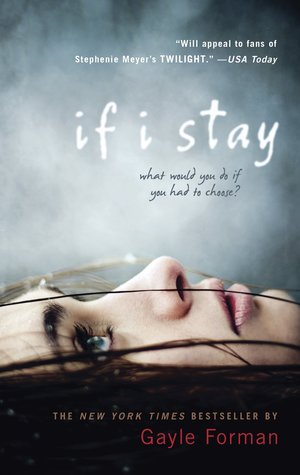 Title:If I Stay (If I Stay #1)
Author: Gayle Forman
Publisher:  Speak (April 6, 2010)
Format: Paperback
Pages: 262
Synopsis from Goodreads:
On a day that started like any other,

Mia had everything: a loving family, a gorgeous, admiring boyfriend, and a bright future full of music and full of choices. In an instant, almost all of that is taken from her. Caught between life and death, between a happy past and an unknowable future, Mia spends one critical day contemplating the only decision she has left. It is the most important decision she'll ever make.

Simultaneously tragic and hopeful, this is a romantic, riveting, and ultimately uplifting story about memory, music, living, dying, loving.
I admit that I took interest in this book mainly because it's going to be a movie plus Gayle Forman did book signing in Philippines last January. The story is about Mia who gets an extraordinary experience of being in between life and death. A tragedy that takes her family away and she must choose whether to stay or not.
You may actually get the notion that the plot of this novel is a bit cliche. However, there is just something about this novel that sets it apart from other novels involving a tragic car accident. It was just written so beautifully written that I had so much heart-felt emotions for the characters. This is the first book that got me crying already within it's first few pages. I love how the story goes back and forth from Mia's past and then the present. I appreciated the way Mia gets these flashbacks and how the readers are taken to the highlights of her life. It was fun and touching to read them.
I love Mia's personality. I really felt attached to her. I like how simple and quiet she is. I enjoy her relationship with her loved ones. Their family is just so adorable. Gosh and I had lots of laughs reading about her mother and her bestfriend. Oh and her relationship with Adam is cute. It's not something that is so cheesy. Like what Mia's mom said, they pretty much have a mature relationship. For once, I'm glad to come across fictional couple with a love story like theirs.
The last few chapters of the book got me crying more. I was really emotional because she had to make her decision. Then, her bestfriend, gramps, and boyfriend gives these tear-jearker messages to her while she was on coma. I just can't with all the feels. The book makes me realize how lucky we are to still have our loved ones. I think that's the message..to appreciate what you have and you decide for yourself because you lead the show, aka your life.
Anyway, I feel that there could be more for this book and hopefully, I'll get what I'm craving for in the next book in the series. I also read the book at a very slow pace. Why? Well, because the story is painful..I tend to slow down when reading this kind of stories. All in all, I very much love the way If I Stay was written. It's enlightening in some way. Plus, it's really good because it made me think about..what if we can really choose between death and holding on to our lives? It really is an interesting concept.