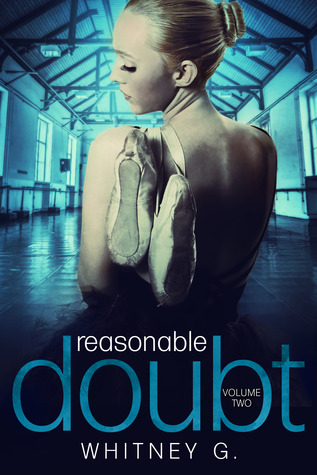 Title: Reasonable Doubt Volume 2 (Reasonable Doubt #2)
Author: Whitney Gracia Williams
Published: May 16, 2014
Format: E-book
Pages: 67
Synopsis from Goodreads:
She lied to me…
She betrayed the one rule that I'm most adamant about: Honesty. Complete and utter fucking honesty.
I really wish she was someone else—someone who didn't have the ability to make me feel, someone I could easily discard like the hundreds of women before her.
She isn't.
I'm drawn to her like I've never been drawn to a woman before—completely captivated by the very sight of her. But unfortunately, with my past slowly re-surfacing for all of the world to see, I'll have to find a way to let her go.
She can never be mine. 
In my previous review, I said how the first installment in the series is such a cliffhanger. Good thing that the sequel came out already and I wasn't faced with too much waiting. The story continues with Aubrey finding out about Andrew's past who came to find him. Basically, this second volume in RD is all about Andrew's past catching up to him and well the two of them (Aubrey and Andrew) having more sexy times together.
This is still such a fun novel to read. I enjoyed every single moment of the characters here. It's a light read even though there are the drama moments. I love the banters of characters especially when Andrew and Aubrey fight. When that happens, the inevitable happens, they have sex. Lol, sorry I can't help it. I love how Andrew falls more for Aubrey, how in his mind he's so afraid to let her in. Ms. Williams really knows how to make her readers hooked. Her writing style is just so good. It's like you get to feel how intense her characters' feelings are. For me, that is so important to get me "into" the story.
I flew through the book because well it's so short. That is my only problem about these series. They're too short for me.  The author could have probably compressed them in one novel all together. I need more from this series. I need a different plot twist. I think Andrew's past is not so new to me. I see some similarity to other romance novels I've read before. So, maybe I was just expecting more..preferably something that is different to make me feel shocked. Even though that's the case, I am still looking forward to read the third book in the RD series. I can't wait. I hope it comes out soon!