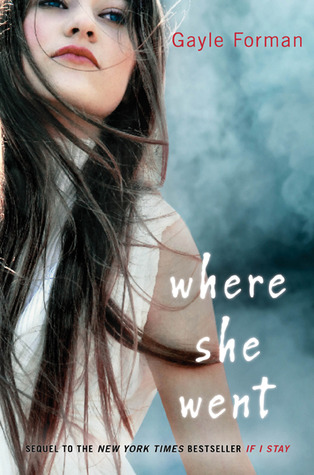 Title:If I Stay (If I Stay #2)
Author: Gayle Forman
Publisher:  Speak (April 17, 2012)
Format: Paperback
Pages: 274
Synopsis from Goodreads:
It's been three years since Mia walked out of Adam's life.

And three years he's spent wondering why.

When their paths cross again in New York City, Adam and Mia are brought back together for one life-changing night.

Adam finally has the opportunity to ask Mia the questions that have been haunting him. But will a few hours in this magical city be enough to lay their past to rest, for good – or can you really have a second chance at first love?

*Warning: Might contain some spoilers!!!*
Where She Went, the sequel to If I Stay, tells the tale of Mia and Adam's reunion in New York City. Ever since Mia left for Julliard and Adam rose to stardom, things have changed quite a lot for both of them. One night, Adam wanders off and surprisingly finds out that Mia is in the same city as he is. He makes a decision that  could potentially bring them back together OR maybe bring their closure.
I picked up this novel with high hopes that I'm going to enjoy this more than If I Stay. It turns out that I was right. So, I start off the novel, definitely not expecting what happened to Mia and Adam's relationship. It didn't cross my mind that the plot for this novel would revolve about that. I know that their separation would be inevitable due to their career aspirations but it still shocked me that they had indeed lost what they once had way back when they were teenagers.
In Where She Went, I was submerged into Adam's angst-y world post-Mia. I was a bit afraid that the feel of the main character's narration would bore me out or make me drag myself through out the book. Surprisingly, the angst of Adam towards his past relationship with Mia was very understandable and relatable in some ways. The hurt that he felt was so intense.. and you will be brought back to all the things he's been through because he lost someone who has a very special place in his heart.
The cool thing is in every chapter, we get snippets of the tracks from Adam and his band's albums. By reading the lyrics, you will get a look into the Adam in his "dark days". We get to see how messed up he turned to be ever since Mia has left him.
And then, everything changes when he sees the poster of Mia's live show..
I love the element of fate here. It's like some twist of their destiny to have them cross each other's paths again. I was so thrilled when I read that Adam decided to let his curiosity win him over. That's when the story got so catchy for me. That's what urged me to continue..to see what he does when he sees Mia again and what Mia does when she sees him again. I love this type of stories..the second-chance-at-love-kind of novels.
As I went on through the book, I love how they rediscovered each other. I understand that they had a lot of issues with each other. I enjoyed reading every single conversation that they had. The only issue with me for this book is the abundance of flashbacks. I'm just the kind of girl who likes to read on and on about the present. A little flashback to support the plot is good but yeah I don't know. Maybe I'm not the biggest fan of flashbacks in stories.
Nevertheless, I did really really loved this novel. It's still beautifully written. Kudos to Ms. Gayle Forman. She did an amazing job of conveying the characters' emotions to me. I think Where She Went is so moving. I love how this novel and If I Stay changed my perspective in life.
Oh and btw, I am not really sure if this is a Young Adult novel or a New Adult one. I think it's more on the New Adult side, considering  some of the events in the book. I do recommend this novel for the contemporary romance fans out there. This is a read that will make your heart melt.