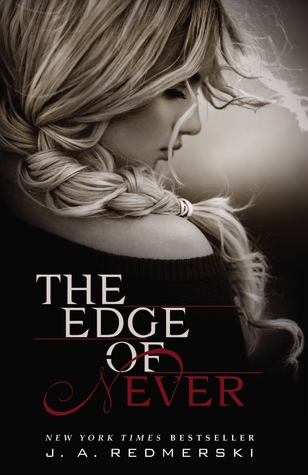 Title: The Edge of Never (The Edge of Never #1)
Author: J.A. Redmerski
Publisher: CreateSpace Independent Publishing Platform (November 13, 2012)
Format: Trade Paperback
Pages: 426
Synopsis from Goodreads:
Twenty-year-old Camryn Bennett had always been one to think out-of-the-box, who knew she wanted something more in life than following the same repetitive patterns and growing old with the same repetitive life story. And she thought that her life was going in the right direction until everything fell apart.

Determined not to dwell on the negative and push forward, Camryn is set to move in with her best friend and plans to start a new job. But after an unexpected night at the hottest club in downtown North Carolina, she makes the ultimate decision to leave the only life she's ever known, far behind.

With a purse, a cell phone and a small bag with a few necessities, Camryn, with absolutely no direction or purpose boards a Greyhound bus alone and sets out to find herself. What she finds is a guy named Andrew Parrish, someone not so very different from her and who harbors his own dark secrets. But Camryn swore never to let down her walls again. And she vowed never to fall in love.

But with Andrew, Camryn finds herself doing a lot of things she never thought she'd do. He shows her what it's really like to live out-of-the-box and to give in to her deepest, darkest desires. On their sporadic road-trip he becomes the center of her exciting and daring new life, pulling love and lust and emotion out of her in ways she never imagined possible. But will Andrew's dark secret push them inseparably together, or tear them completely apart?
Let me begin this review by saying how I freaking love this book. I came across this book when I saw a friend of mine post a recommendation on it. I was intrigued because the cover looks really lovely. I read the blurb and that was all I needed to buy myself a copy.
The story is about two individuals set off on a road trip to see what's more to life. Camryn sets off on a journey to find herself and take herself out of the boring routine that most people are in. Andrew goes on a ride to a destination to what he might be fearing to happen. Fate brings them together but it seemed like it's fate as well that might tear them apart.
I think this is one of the best novels that I have ever read. I felt as if I had so much emotions while reading this book. It's not exactly dramatic and full of angst. I even find it funny at some points of the story. The Edge of Never is not a typical novel. It makes your heart ache and your mind think about the meaning of life. I guess I really felt attached to the characters. Like them, I am also someone who's trying to find something worthwhile, something that will make me see what's my purpose, and what will make me happy.
The characters, Camryn Bennett and Andrew Parrish are such strong characters. Despite their flaws and problems in life, they were able to do spontaneous things that made them really happy. Their love is something that will make the reader crave for what they have. It makes me want to cry because I can feel the intensity of their emotions and the hurt that came along with the tragedy in their lives. It's such a beautiful novel. It's amazingly written.
The pacing of the story is just so right. There were no dull moments. It's also refreshing how the story is all about spontaneity. I adore Camryn and Andrew for being able to do things in that way. They had fun from it. Then, on to the friggin plot twist… Gosh. That made me sob like a baby. I must have known in the back of my mind that there might be something which will happen to one of them. When I got to the part of the plot twist, I was hurting for both Camryn and Andrew. I was crying all along. I was emotionally f*cked up by it. I really mean it. I thought all of the bad things will happen but you will never know with this story. I was reading the last few chapters with tears in my eyes and then when I got to the ending..well well..I was like WTF? By the way, I mean all of this in a good way.
I definitely recommend The Edge of Never. It's not only one of my favorite books ever but also one of the stories which are really life changing. It's so beautifully written and just so awesome. Readers of romance and new adult genre would certainly fall in love with this book.