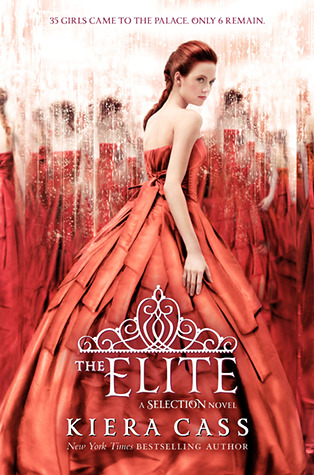 Title: The Elite (The Selection #2)
Author: Kiera Cass
Publisher:  HarperTeen (April 23, 2013)
Format: Paperback
Pages: 323
Synopsis from Goodreads:
Thirty-five girls came to the palace to compete in the Selection. All but six have been sent home. And only one will get to marry Prince Maxon and be crowned princess of Iléa.

America still isn't sure where her heart lies. When she's with Maxon, she's swept up in their new and breathless romance, and can't dream of being with anyone else. But whenever she sees Aspen standing guard around the palace, and is overcome with memories of the life they planned to share. With the group narrowed down to the Elite, the other girls are even more determined to win Maxon over—and time is running out for America to decide.

Just when America is sure she's made her choice, a devastating loss makes her question everything again. And while she's struggling to imagine her future, the violent rebels that are determined to overthrow the monarchy are growing stronger and their plans could destroy her chance at any kind of happy ending.
*Might contain some spoilers, you have been warned ;)*
In The Elite, from 35 girls, 6 girls remain in the Selection. America remains unsure as to what her choice really is. The competition becomes tougher as ever as the other girls get closer to Maxon. With that happening, America gets confused about Maxon's feelings for her. So, that makes her more torn  between Aspen and Maxon.
I think my feelings are still pretty much the same for this book. I'm still frustrated as ever about America's rash decision-making and insecurity. Like seriously, how many times does Maxon need to show his care love for America. Why can't she get it? Why still keep seeing Aspen? Don't get me wrong. I really do love the book but there are scenes here when I just want to friggin throw the book at America's face. She really has a temper and it's tiring at some point.
What made me actually love this series is that it makes me feel lots of things. I feel like I got so attached with the characters. I was so absorbed with the story. There were lots of events which made me feel like I'm going to burst a vein because of Mer's rushed decisions. Well, those careless moments of Mer made the story much more interesting. I love the plot twists.
Towards the end of the book, I was really getting upset because I thought America was going to be really eliminated and then Maxon's going to end The Selection because the king doesn't approve of her. I was preparing myself for Mer's exit. Her supposed to be exit in the Selection was so awesome. She wore this elegant purple dress and looked so glamorous. Then..then…Maxon came back for her!!!! (cue tears of joy!) So, Maxon was able to convince the king to let Mer stay. Damn. I'm so pleased with the turn of events. The ending got me laughing a lot. Finally, America decided to fight for Maxon. Lol. I love it!!!