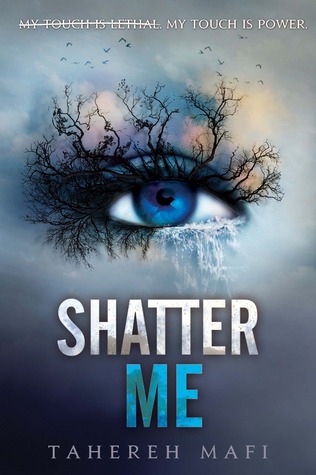 Title: Shatter Me (Shatter me #1)
Author: Tahereh Mafi
Publisher:  HarperCollins (October 2, 2012)
Format: Paperback
Pages: 338
Synopsis from Goodreads
Juliette hasn't touched anyone in exactly 264 days.

The last time she did, it was an accident, but The Reestablishment locked her up for murder. No one knows why Juliette's touch is fatal. As long as she doesn't hurt anyone else, no one really cares. The world is too busy crumbling to pieces to pay attention to a 17-year-old girl. Diseases are destroying the population, food is hard to find, birds don't fly anymore, and the clouds are the wrong color.

The Reestablishment said their way was the only way to fix things, so they threw Juliette in a cell. Now so many people are dead that the survivors are whispering war – and The Reestablishment has changed its mind. Maybe Juliette is more than a tortured soul stuffed into a poisonous body. Maybe she's exactly what they need right now.

Juliette has to make a choice: Be a weapon. Or be a warrior.
I bought this book mainly because I was so intrigued about it's synopsis plus Mafi was about to have a book signing tour in Manila at that time.
The story had me from the first line of the book's blurb. Not being touched or talked to in 264 days would absolutely make anyone insane. At first I thought.. Would this be a psychological thriller? That's the first thing that  came to my mind since she was locked up with no one to talk to, no one to touch, and no one to see. I found out that I had the wrong notions about the story as I read more and researched a little about the plot *because I don't want spoilers*. Apparently, her lethal touch was like a gift  curse. She was locked up because of an incident she didn't mean to cause. As she was imprisoned in a facility, the world outside it is a chaos. A new government called The Reestablishment was founded to fix control the world. Then, one day, a man named Adam is tossed into her cell. That's where all the excitement begins.
Shatter Me is such a riveting story. At the beginning, I was actually worried because Mafi's writing involved lots of prose. There were some points where I just needed to reread the whole paragraph just to grasp what was being told. Even though that's the case, I fell in love with the story. I love almost all the characters in the book. I adore Juliette even though she's crazy. There are so many things that made me curious about Juliette. Her mind is such a dark dark place to get into. She's been hurt, abused, and judged by many people because of what she is. I can't help but feel sympathy for her because of all the bad experiences she had. Despite the fact that people despised her, she has this hope that one day she will be accepted.
I also swooned over Adam and Warner. OMG! They're just so different and yet I like them both for Juliette. Adam is such a nice guy. It's like he's Juliette's knight in shining armor. He's so thoughtful of Juliette and I love how the way they fell for each other. Then, there's Warner. Oh gosh!!! This guy is trying to kill me. He's a bad boy on the outside but on the inside he has so many feelings for Juliette. I want to hate him for his harsh character but I can't. There's something about him that is so swoon-worthy.
I love how this book is action-packed. There a lot of surprises. There were moments when I gasped and squealed. It's an awesome book  despite the complicated writing style. It was a bit too much for me. Though, thank goodness I was able to carry on with the story.
I recommend this book to people who love Sci-fi and dystopian genre. If you're into super powers and stuff, you'll definitely enjoy it.